Sahana's Review of "The Miseducation of Cameron Post" by Emily Danforth
Review by Sahana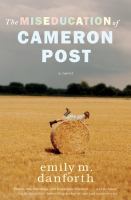 The Miseducation of Cameron Post by Emily Danforth
This is a Coming of Age YA book, targeted for LGBTQ readers. I would recommend it for readers aged 15-18. Likely not suitable for readers below that age, because of sexually implicit scenes, language, and some dark themes. The protagonist's parents are killed at the very beginning of the book, and another character attempts suicide; readers who are squeamish about such themes should not read this book. There is also plenty of drinking and smoking. It is important to note that this is not a romance novel, as the protagonist never actually gets into a real relationship. The writing itself takes a lot of time to read and process, and the sentences are very verbose and descriptive. It is very thought-provoking, and even somewhat philosophical, but it is certainly not a book for light reading. However, the reader will get some laughs out of the dialogue and description.
The characters themselves are fairly dimensional. Cameron, the protagonist, embodies the teenage stereotype of sassiness and sarcasm. Her aunt, Ruth, is the exact opposite; she is staunchly conservative, rigid, and unfortunately very clueless about teenagers. As Cameron grows up, she struggles to define herself in a world where homosexuality is perceived as a sin. As her parents die well before she truly gets to know them, there is much unknown in her world, and a prevailing tone of confusion fills the narrative.
One of the things I like about this book is that the plot doesn't follow a straight path. There is no clear villain. Even though Cameron's family members force her to go through conversion therapy, they are not actually cruel in nature; they are acting in the manner that they believe is right. This raises the question: to what extent can society be blamed for the cruel treatment of homosexuals? Readers will be left to ponder that question on their own as they dive into Cameron's world.