Abdd's Review of "Children of Exile" by Margaret Peterson Haddix
Review by Abdd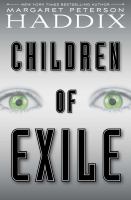 Children of Exile by Margaret Peterson Haddix
"Children of Exile," a book of the dystopian genre by Margaret Peterson Haddix, is an emotional thriller. I would give this book a 4.5-star rating and recommend the book to 5th, 6th, and 7th graders. Adults known as "Freds" have raised a twelve-year-old girl Rosi, her five-year-old brother Bobo, and many other kids in town since the day they were born. The children were told it was too dangerous to go back to their real parents and their real home, and now after twelve years of separation, it's time for them to reunite.
Rosi is the oldest of all children in Freetown, excluding Edwy. She has trusted the Freds for her whole life, but now she is not sure whom to trust. Their home was so different than the children's expectations. The houses appear to be boxes and rubble, and in this town and no one trusts another. Will the children be able to adapt, or will their names go on the victim's list of history repeating itself?
I recommend this book to anyone who loves a page-turning plot and tension. This is a book with a sinister scene set up behind it. This book also gives you a first-hand point of view of one being exposed to both good and bad parents.