Guhan's Review of "Life of Pi" by Yann Martel
Review by Guhan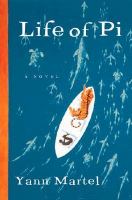 During my first reading of Life of Pi, the element of the novel that sticks in one's mind immediately is Piscine Molitor "Pi" Patel, the titular protagonist. Looking back, it was easy to identify with Pi because he is a teenager. At just 16, Pi is easy to empathize with, and is a strong hero to root for throughout the novel. After reading "Life of Pi" more than a few times, one realizes that the story is not just about Pi however.
He would've gone insane if not for the presence of a fully-grown Bengal tiger, a zebra and a menagerie of characters who play a role in this fantastical tale. On a deeper level, one thinks about Pi's reliability as a narrator. Much of the novel takes place during his voyage and no one, save for Pi, knows what really happened on the high seas. These deep questions only add to the richness of the novel, making it a fascinating read.
"Life of Pi" is an introduction to the world of adult fiction, a book with mature and compelling themes that still contains simple language and a straightforward plot -- perfect for readers in 8th grade and above. It is a survival story at heart, and a kindred spirit to Hatchet or any survival fiction book, but it can appeal to just about anybody with its plucky protagonist and powerful message. Yann Martel's skill in steering his audience through his work across the Pacific is evident, and a voyage worthy of five stars.